Square Washers Manufacturer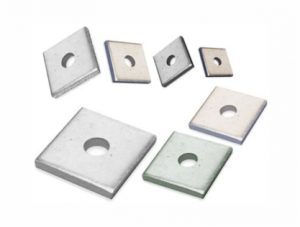 GHS Fasteners is one of the largest square washer manufacturers in India. Our range of washers is diverse. We are known for our quality products made with the highest quality of raw materials. We give utmost attention to the factors such as dimensional accuracy, unmatched durability and excellent performance under tough conditions. We carefully analyze the need of every customer and cater products according to their need.
We offer such washers of excellent quality at such affordable prices. In fact, for the same quality products in the market, GHS Fasteners' are those with the lowest price. We source our raw materials from trusted sources and suppliers and make sure they are of the finest quality. They are thus suitable to be used to be in a wide variety of industrial applications.
Our entire range of products also includes Plain Washers, HSFG Washers, Spring Washers, Flat Washers, Rectangular Washers, Square Washers, Conical Washers, Pack Washers, High Tensile Washers, Industrial Washers, Anti-theft Nuts, Pal Nuts, Carriage Bolts, Hex Bolts, Hex Screws and Structural Bolts. We also export these premium products to other countries.
Our square washers are specially designed to limit the stress on parts that come into contact. They are also highly useful in reducing noise, vibration and electrical current of the parts of the machine.
Available Sizes
We are highly familiar with the traditional and International market needs. The multipurpose square washers are available in various sizes, each being manufactured with a purpose to meet your convenience. Ranging from M5 to M42, we offer you appropriate and favourable sizes in the mentioned range. As clients, we understand the unique demands and are always ready for any sort of customization as per your requirements.
Thickness
One of the leading square washers manufacturers in India, we at GHS FASTENERS, are obsessed with strict and accurate dimensions. Hence, you will always find accuracy and clarity in square washers thickness. Thanks to the dedicated team of engineers in our firm. The range of square washers come in a plethora of sizes varying in thickness from 1MM to 20MM. You can find your favorable size in the specified range.
Finish / Colours
Our finishing touch to the plain washers makes us best in this business. As one of its applications is providing the smooth surface, we never compromise with a flawless finish. Customer demands are varied, and we guarantee satisfaction to the customers.
Zinc Plated : We do zinc plating to produce corrosion-resistant conical washers. The zinc coating acts as a kind of sacrifice, which gets corroded before the corrosion reaches the actual material.
Mechanical Galvanized : In mechanical galvanizing, we apply a thick coat of zinc is applied without electricity (as in electroplating) and perform the process at room temperature. Our production process is known for its uniform thickness and consistency between batches.
Natural Black : We provide the black finish by coating the conical washer with black oxide. We do this to improve resistance to corrosion and to minimize light reflection. The major advantage of this coating is the minimal build up when compared to other coatings.
Hot Dip Galvanized (HDG) : Hot Dip galvanizing is one of the oldest and most prevalently used methods of coating that we use. Here, we clean the washer and dip it in a flux tank containing zinc ammonium chloride, which helps in coating the zinc onto the washer.
Grades of raw materials used:
Choosing high-quality raw materials defines the secret of our wide customer base. We never compromise on quality and always choose the high-grade materials.
Apart from these, we can also use other raw materials for production, which can be chosen according to the customer's need and requirement.
The market is ever changing and so are our strategies and goals. We believe there is always a scope for improvement and thereby get the products tested frequently. Our company's name is at stake. Therefore, we live by the idea that the first impression is the last impression.
Standards
We offer you with Rectangular Washers as per the following notations:
DIN 434, DIN 436
Finish / Colors
Self Finish
Electro Zinc Plated
Yellow Finish
Auto Black Finish
Hot Dip Galvanized (HDG)
Rilsan Blue, Etc.