Carriage Bolts Manufacturer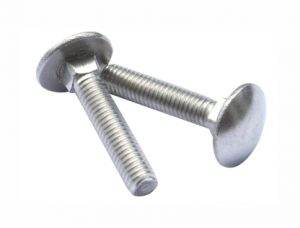 GHS Fasteners has been the leading Carriage bolts manufacturer India, Carriage bolts supplier and Carriage bolts exporter in the country. The variety we offer is unparallel. We have bolts for all your needs. Our products are widely available in different shapes as well as sizes. Hence a lot of industries use our products. The shank cross-section and mushroom head make it easily distinguishable from other types of bolts, which are circular in shape. The portion directly underneath the head is molded into a square section. This makes sure that the carriage bolt can be installed with any one tool. It can either be a spanner or a wrench by working from one side only. We have a customized range of carriage bolts at factory pricing. Our carriage bolts are widely sought after all across the globe thanks to our finest quality products and factory price.
What are they used for:
We have made customer satisfaction our mission. Being the leading Carriage Bolts manufacturer in the country, we strive to provide only the best of products. Our carriage bolts are similar to the standard bolts but with a different head. The head of our carriage bolt is round with a square shank protruding from the flat side of it. From the square shank, its threads extend out like a standard bolt. Our range of carriage bolts are easy to install, use and reinstall if necessary. A carriage bolt is the preferred tool of option for smoother or flatter surfaces. They do not protrude as much as the other bolts, which makes them easy to be slid over. Our carriage bolts also give an aesthetic appeal and make furniture look much more finished. These carriage bolts are used widely used for security fixings, locks and hinges, deck building, fence construction and outdoor furniture. The carriage bolt works well with wood. It sticks to the bolt when tightened. They are commonly used in wood fastening applications. Our carriage bolt also works well with metal surfaces.
Manufacturing Process
GHS Fasteners has been the industry-leading Carriage bolt manufacturers and carriage bolt suppliers. We take pride in our manufacturing process. We take immense care and effort into each and every product that comes with our name on it. We design, manufacture and produce all the carriage bolts at our state of the art facility in Ludhiana. Every single carriage bolt is made by the most advanced machinery with utmost precision. We cater to a wide range of customer specifications and preferences and are more than happy to serve their needs. Our carriage bolts are developed through iron strengthening plates which are fixed on either side of a wooden beam. The squared section fits into a square hole in the required installation. Every single carriage bolt coming out of our facility is manufactured in strict conformance with the international norms of quality and standards such as DIN / ISO / EN / IS / ASME.
Features
As the industry leader in carriage bolt exporting and carriage bolt supplying, we take immense pride in the features and functionalities that are offered by our products. Our carriage bolts have a sturdy design and a seamless finish. They are industry famous for their strength and finish which makes them reliable in installations and furniture. Our carriage bolts are known for their efficient work and long functioning life. They are lightweight and easy to fit which makes them have a much longer life.
Attributes
Our carriage bolts are designed in such a way that they have a high rate of dimensional accuracy. Our precision and eye for detail make the carriage bolts have a robust design which matches the needs that the industry demands. Our carriage bolts have high abrasion resistance and corrosion resistance which make them have a longer functional life. They have a high tensile strength which makes them an industry leader in its class.
Finish / Colors
Self Finish
Electro Zinc Plated
Yellow Finish
Auto Black Finish
Hot Dip Galvanized (HDG)
Rilsan Blue, Etc.
Standards
DIN 603, DIN 604, DIN 605, DIN 607, DIN 608