Anti Theft Nuts Manufacturer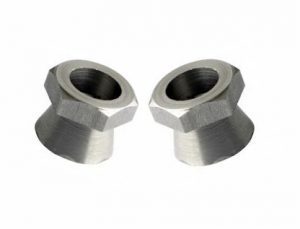 We know how important it is to choose the right nut and bolt for your product and your company. As each nut is designed to perform and fulfil a certain level of activity. You cannot just build up a car with only weld nuts or collar nuts. The anti-theft nut is different and unique from every other nut available. As the name says, it is hardly prone to any damage. It keeps up the condition of a product for a very long period. Also, there is plenty of anti-theft nut manufacturer all around the globe. They provide with some exceptionally amazing quality of nut. Also, most of the anti-theft suppliers and anti-theft exporters are trustworthy. GHS Fasteners nut is one of those. We are one of the most reliable sources for all of your nut requirement. GHS Fasteners is a prominent anti-theft nut manufacturer, anti-theft nut supplier and also anti-theft nut exporter. You can reach to us at any point in time, and we will be ready to serve you with the best. We are located in Ludhiana, so, if you reside anywhere near to us and also look for a nut manufacturer. You can drop bye and say Hi anytime.
More About Anti Theft Nut
Anti-theft nut justifies its name. These look very similar to the ordinary nuts but has various exceptional properties associated with it. Anti-theft manufacturers make sure that they are strong. Since these nuts are so strong, they often weigh heavy as compared to the normal weight of nuts. Anti-theft nut manufacturer is well aware of all the requirement of the market. So, they have created separate nuts for all purposes. For instance, there are different anti-theft nuts for the wheels and other parts of the car. Different types of nuts are used in hydraulic valves.
All of these nuts are made with premium quality metal, which is another reason for it being really heavy. They are made to tolerate the heavyweight of machinery. These nuts majorly have a cylindrical and cone type of a body. The top of the nut is shaped as hexagon which helps it to stay strong under enormous pressure.
If you are still confused about buying the best quality nut, you must straight away head to GHS Fasteners. We have become a master in manufacturing anti-theft nuts. We even deal in other nuts as well, such as weld nuts, collar nuts, washers, and other fasteners.
Features of Anti Theft Nut
The anti-theft nut has some amazing features associated with it. You would want to buy these for your next industrial product. Here are some of the features of anti-theft nut:
Holding Power: The anti-theft nut has excellent holding power. They are very appropriate for all heavy machinery. It will help in maintaining the entire grip and building a very strong end product.
No Quick Damage: These nuts are made up with premium quality material which makes it durable. It comes out in various finishes. You can choose them according to your preferences. Also, their ultimate finish does not affect their performance. No matter if you are buying the stainless steel nut or galvanized one, it will still perform amazingly.
Smooth Finish: Using these nuts will help you in achieving a great finish in your products. It happens because it helps in establishing a great grip all over the product. You can opt for these nuts for manufacturing various heavy types of machinery.
GHS Fasteners is one of the best options for people who are looking for great nut manufacturers. However, Anti-theft nuts are available at a very high price. But, GHS Fasteners provides everything at a very reasonable rate. Most of the nuts are provided at the factory price. So, if you are looking for anything like this, you must head to GHS Fasteners right now. If you are a resident of Ludhiana, then you may visit our place and browse our quotations. If not a resident of Ludhiana, you can call or email us your queries.
Finish / Colors
Self Finish
Electro Zinc Plated
Yellow Finish
Auto Black Finish
Hot Dip Galvanized (HDG)
Rilsan Blue, Etc.