Weld Nuts Manufacturer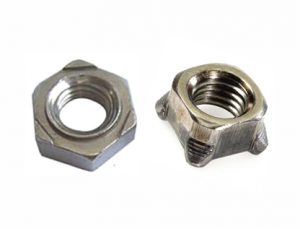 GHS Fasteners has been known as the leading Weld Nuts manufacturer India and Weld nut supplier. We provide our weld nuts to imminent clients all over the world and also hail as their choice of weld nut exporter.
Weld nuts are used to join some component by welding. We offer a wide range of different welding nuts in our array. All the weld nuts come in different shapes, sizes, and specifications. They are manufactured with the highest quality of raw materials. We ensure that we give the best quality products and service to our customers based on their specifications.
The different kinds of weld nuts are:
Round base nuts
Slab base nuts
Tab base nuts
Hex and square based nuts
Retainer weld nuts
Tube end nuts
Twin piloted nuts
Flange weld nuts
What are they used for
Weld nuts are various diverse applications in different industries. We have been a reputed weld nut manufacturer and weld nut supplier to a lot of the prestigious products. We have been recognized for the quality, functionality, and variety that our products offer. Our weld nut consists of a flanged neoprene bushing with a nut embedded in the non-flanged part. The non-flanged part is added to the other piece, and it is tightened using the weld nut. Our weld nuts are used to bridge the gaps and seams between two metal objects. They are also used in places where it is tighter or lesser surface space. Whilst our hex weld nut is more suitable for heavy-duty work. Our tab weld nuts are used for lighter work.
Our Weld nuts are used in various industries such as:
Boiler & heat exchanger manufacturing, petroleum refining units and metal processing.
The mining industry, nuclear & thermal power plants, oil & gas extraction rigs.
Industrial chemical processing plants and chemical refining.
Aerospace & aeronautical, shipbuilding, automotive, military and industrial.
Electric motors & pumps, power generation, heavy equipment, electronics & telecom infrastructure and Electricity.
Construction, replacement parts, bridges, ports and harbours.
Agricultural
Manufacturing Process
We have been time and again recognized as a prominent Weld nut manufacturer and Weld nut supplier. We take pride in delivering the highest quality products at the most competitive prices in the market. We ensure that all our products are produced using the highest quality of raw materials procured from the best resources. We manufacture all our products at our state of the art factory with the latest hi-tech equipment at our disposal. We have an efficient team of technicians and engineers who bring in bucketloads of experience onto the table. The efficiency of the team helps us serve our customers better. We use various manufacturing techniques such as forging, heat treatment, threading, etc to manufacture our weld nuts. We ensure that we understand the requirements of our customers and their projects.
Being the leading Weld nut manufacturer and Weld nut supplier, we listen to our customers. We understand what their requirements are and suggest the best possible products. When it comes to Weld nuts, there are a lot of different options to choose from and different factors to consider. The application type, parent material, weld nut material, type of welding and base design are some factors to be found. Once we understand the requirements, we customize our orders according to the customers. Our Weld nuts come in different shapes, sizes, threading, and other specifications. We use different grades, materials, and coatings according to the requirement of the customer. All our products comply with the international standards of security, safety, and quality.
Different kinds of threading:
Attributes
Our Weld Nuts are famous across various industries for the versatility and diversity they offer.
Our Weld nuts can be used in different types of situations to solve different kinds of problems.
They can be easily used in places where there is a space constraint or less surface area.
They are sturdy and durable and have a long functional and service life.
They are well equipped to withstand heavy loads of weight.
Features
Our Weld nuts are dimensionally accurate and precise according to the specifications of our customers.
They can be easily attached and installed to a particular component.
They are resistant to corrosion, abrasion and temperature and its effects.
They have an elegant finish and provide an aesthetic appeal.
Finish / Colors
Self Finish
Electro Zinc Plated
Yellow Finish
Auto Black Finish
Hot Dip Galvanized (HDG)
Rilsan Blue, Etc.