Pal Nuts Manufacturer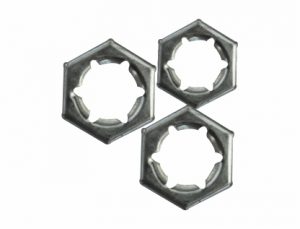 We live in a world where machines have taken over most of the manufacturing work. Everything, from the packet of chips you eat to the bike you ride, is manufactured in such factories. These conditions make it mandatory to make these machines strong and sturdy so that they can bear the pressure. At the same time, it is vital to ensure that the machines manufactured are durable and long lasting as well. A machine is nothing but an assemblage of its several smaller parts. Even if one of the parts goes missing, the machine stops functioning correctly. So, it can be said that the machines we depend on for our survival depend on their smaller parts for survival. Therefore, it becomes all the more important to ensure that all these parts stay put in their respective places.
This responsibility rests on the shoulders (ironical as though they do not have any) of the fasteners that they are used to connect. Therefore, it is advisable to use the best quality nuts because they are the foundations of any machine. They need to buy from trusted and experienced dealers. If the nuts are not durable, the machine will have frequent breakdowns which will increase the maintenance cost, thereby, affecting the efficiency and profitability of your business.
The Best Pal Nut Supplier and Manufacturer
So, if you are looking for such reliable and experience Nut suppliers or manufactures, GHS Fasteners is the place for you. Let us first introduce you to the product that we are offering.
We are offering you pal nut screws which are widely known for their design and are utility in automobile industrial sectors. They are fasteners which are fitted on top of the bolts to ensure that they do not leave their positions. This makes them very important for the industries.
The thing unique to pal nuts is its ridges/indentations. These fit onto every screw in a unique. This makes it all the more important to think carefully before choosing your pal nut manufacturer. A little discrepancy in the manufacture of this pal nut can compromise your machinery. So, while picking you should be careful.
Your search for reliable pal nut suppliers has come to an end as you are on the right page, literally and metaphorically. There are countless reasons which make GHS Fasteners the most suited for this purpose.
What We Offer
Let's start by telling you what we have to offer. We manufacture nuts with a wide range of diameter. You might not find this with any other company.
Here at GHS Fasteners, we understand that a perfect machine is one which has sturdy interior while is soothing to the eyes from the outside. Keeping this in mind, we provide you pal nuts in various colours which can enhance the aesthetics of your machine.
Highest Quality Nuts
Our pal nuts are smartly designed as per DIN 7967. We used advanced technology to produce the best quality nuts that are out there in the market. We know that the quality of a product is dependent on the quality of the raw material used. That is why here at GHS Fasteners we used the highest quality of raw material to turn out a high-quality product. Due to the anti-corrosive nature of our nuts, they have a long lifespan which in turn reduces your expenditure on the maintenance of machinery. Our nuts are strong and less susceptible to wear and tear.
We comply with international standards in the manufacture of our products. This in turns provides us the capacity to manufacture a dimensionally accurate range of products which is a necessity for this product.
Customer Satisfaction Is Our Main Criteria
We have a clientele all across the world and owing to our world-class infrastructure. We are able to deliver to all their needs.
The most important thing is that we provide our clients with the option of getting customized products as per their needs on bulk orders. Our timely delivery ensures the complete satisfaction of the customer.
We deal with all scales of orders. We cater buyers, distributors, stockists, and wholesale suppliers. Our headquarters are located in Ludhiana.
Grades
C-42 Spring Steel or as per customer requirement
Finish / Colors
Self Finish
Electro Zinc Plated
Yellow Finish
Auto Black Finish
Hot Dip Galvanized (HDG)
Rilsan Blue, Etc.