HSFG Bolts Manufacturer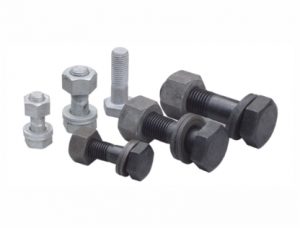 We at GHS Fasteners take pride in being the leading HSFG Bolt exporter, HSFG Bolt supplier and HSFG Bolt manufacturer India. The HSFG Bolts are called as the High Strength Friction Grip Bolts. We supply a wide range of high strength friction grip bolts, circular washers and nuts. These bolts are known to have high strength and are made out of medium carbon steel. Techniques like quenching and tempering are used to achieve their high strength. The high strength friction grip bolts have different shaped heads and nuts. But they are made from similar materials as the grade 8.8 bolts. HSFG Bolts have many advantages due to their properties and are widely used across many industries.
What it is used for
The HSFG Bolts are widely used across multiple industries for various purposes. They have a lot of advantages due to their properties and high strength. The HSFG bolts are used primarily in construction, Engineering, and structural steelwork. They cater to a variety of industries such as defense, petrochemicals, railways, and mechanical. Us being the leading HSFG Bolt supplier and HSFG Bolt manufacturer India, we understand the importance that the industry gives to our bolts. HSFG Bolts provide a stable joint and provide a solid hold of them. There is not a weak point in its connection. The large clamping force to the elements connected is due to the large tensile stresses that are developed in the bolts. The frictional resistance in the HSFG bolts is capable outside the hole, and the possibility of failure at the net section is drastically reduced. The nuts are prevented from loosening because the bolts are tensioned up to proof load. The tension is equal and uniform in them. Fire hazards can be avoided due to their strength and alterations can be made too. As they are tightened with wrenches, the noise produced is much lesser. HSFG Bolts are also very cost effective. They require much lesser bolts to attain the desired strength and also need much lesser manpower to make these connections.
Manufacturing Process
Having earned the name of being one of the most reliable HSFG Bolt manufacturer India and HSFG Bolt Supplier, we take immense care and effort into each and every product that comes with our name on it. We design, manufacture and produce all the HSFG bolts at our state-of-the-art facility in Ludhiana. Every single HSFG bolt is made by the most advanced machinery with utmost precision. We cater to a wide range of customer specifications and preferences and are more than happy to serve to their needs. We offer the HSFG bolts in various thickness levels and grading as per the need and requirement of the customer. Our HSFG bolts are prevalent over many industries, and each and every one of them complies with the ISO Standards and specifications. Each HSFG bolt manufactured from our facility is produced in strict conformance with the international norms of quality.
Specifications
We have been able to become the leading HSFG Supplier and HSFG Manufacturer India because of our eye for detail. We have made it our mission to deliver the most accurate products to our customers, according to their preferences and specifications. We have emerged as an industry leader thanks to the variety of high strength bolts that are part of our repertoire. All our HSFG Bolts are in compliance with the Quality standards and are manufactured using high-grade metals. All our HSFG Bolts are manufactured right here in our state-of-the-art factory at Ludhiana. We make sure that all our HSFG are according to the specifications of the clients and need of the project. Our HSFG Bolts are available at various grades and finishes. Our HSFG Bolts come with a grading of either 8.8s or 10.9s. We have multiple finishes for our HSFG Bolts. We provide Blackodised which is a particular type of corrosion resistant conversion coating. Our white zinc plates and yellow zinc plates give corrosion resistance and are majorly used for general purpose projects. Our hot dip galvanized HSFG Bolts give much higher corrosion rate and are more suitable for big outdoor projects.
Features
As the industry leader in HSFG Bolt exporter and HSFG Bolt supplier, we take immense pride in the features and functionalities that are offered by our products. Our HSFG Bolts have a sturdy design and a seamless finish. They are industry famous for their superior strength which makes it reliable during operations. Our HSFG bolts are known for their efficient working and longer functional life. They are lightweight and easy to fit which makes them have a much longer service life.
Attributes
Our HSFG Bolts are designed in such a way that they have a high rate of dimensional accuracy. Our precision and eye for detail make the HSFG Bolts have a robust design which matches the needs that the industry demands. Our HSFG Bolts have high abrasion resistance and corrosion resistance which make them have a longer functional life. They have a high tensile strength which makes them an industry leader in its class.
Finish / Colors
Self Finish
Electro Zinc Plated
Yellow Finish
Auto Black Finish
Hot Dip Galvanized (HDG)
Rilsan Blue, Etc.