Conical Washers Manufacturer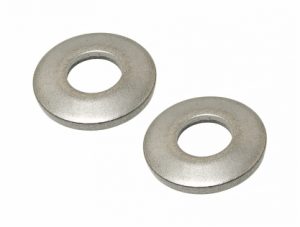 GHS Fasteners is the largest conical washer manufacturer in India. We also produce a wide range of other washers including Plain Washers, Spring Washers, Rectangular Washers, High Tensile Washers, HSFG Washers and Pack Washers.
The conical washers that we manufacture are known for their incredible ability to provide a high load-bearing capacity and that too with a low deflection range. When conditions of thermal expansion and contraction prevail in equipment, such conical washers are used to maintain the tension in the assemblies. Our high-quality washers are also built to withstand relatively high loads with as little deflection as possible.
We are the most well-known name in this industry for the production of conical washers in India. Their variable load-deflection characteristics which are based on the ratio of height to thickness make them ideal for use in various industries. The conical washers we produce are as per the DIN 6796 standards.
We are the industry leaders in conical washer production since our products are of consistent quality, meet the necessary standards and are monitored by a quality council during production and testing.
Grades of raw materials used
We obtain the highest quality of raw materials from leading vendors in the market. The raw materials we use for producing conical washers are:
Apart from these, we can also use other raw materials for production, which can be chosen according to the customer's need and requirement.
Finishing and colors available
Zinc Plated : We do zinc plating to produce corrosion-resistant conical washers. The zinc coating acts as a kind of sacrifice, which gets corroded before the corrosion reaches the actual material.
Mechanical Galvanized : In mechanical galvanizing, we apply a thick coat of zinc is applied without electricity (as in electroplating) and perform the process at room temperature. Our production process is known for its uniform thickness and consistency between batches.
Natural Black : We provide the black finish by coating the conical washer with black oxide. We do this to improve resistance to corrosion and to minimize light reflection. The major advantage of this coating is the minimal build up when compared to other coatings.
Hot Dip Galvanised (HDG) : Hot Dip galvanizing is one of the oldest and most prevalently used methods of coating that we use. Here, we clean the washer and dip it in a flux tank containing zinc ammonium chloride, which helps in coating the zinc onto the washer.
Finish / Colors
Self Finish
Electro Zinc Plated
Yellow Finish
Auto Black Finish
Hot Dip Galvanized (HDG)
Rilsan Blue, Etc.