Spring Washers Manufacturer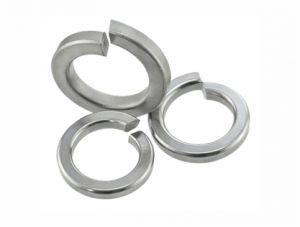 We have been the leading Spring washer manufacturer India and the choice of Spring washer exporter and supplier for various clients across the globe. Our spring washers have been in constant demand from clients from various industries for diverse projects. Spring washers are a subtype of washers and are also called as disc springs. We have a wide variety of spring washers, which come in different shapes and sizes as per the requirement of our customers. The different kinds of spring washers in our large inventory are Belleville, Crescent, Dome, Finger, Wave, and single wave washers. We have been recognized as an imminent spring washer manufacturer and spring washer supplier in the country. This has only been possible due to the quality of our products and customer service.
What are they used for
Our spring washers have been made only with high-quality raw materials and are used in various industries for various applications. We have been the Spring washer supplier and Spring washer exporter of choice for customers all over the globe, as we deliver only the best quality products for them. Our spring washers are used to withstand large loads wherein the scope in the direction of loading is inadequate. As spring washers are small in size, they are used in small machines where coil springs cannot be used. Our spring washers provide greater tension per unit of applied torque and thus preventing components from loosening. They also prevent parts from damage by corrosion and temperature.
Our Spring washers are used in various industries such as :
Mechanical, Automobiles and Railways.
Shipbuilding, Marine, Nuclear and Oil Industry.
Medical Instrumentation, Mechanical Instrumentation, and other Engineering applications.
Construction.
They are used for various applications involving :
Valves, boiler suspension systems, and pumps.
Braking systems and aerial cable cars.
Couplings, machine presses, and overload protection components in electrical transformers.
Manufacturing Process
Our spring washers have been in constant demand from various clients around the world, and we have been the Spring washer manufacturer of their choice.
Our team of experienced technicians ensures that every single spring washer coming from our facility is precision engineered to the needs of the clients. We have a rigorous manufacturing procedure producing the highest quality spring washers. Some of the techniques that we use to manufacture our spring washers are stamping, machining, heat treatment, etc. We choose the highest quality of raw materials that are used to manufacture our spring washers. We use the highest quality state of the art hi-tech machinery to consistently produce uniform spring washers. We are committed to serving towards the best interests of our clients and their projects.
Attributes
Our spring washers eliminate the rattle and maintain the tension in the machines.
They recompense for enlargement and compression after assembly in the materials.
They have high tensile strength and absorb the shocks by providing a controlled reaction to them.
Features
Our spring washers have the advantage of ease of use, and they fasten and unfasten screws and nuts easily.
Our spring washers provide smooth functionality over a long period of time.
They are built with dimensional accuracy and precision as per the requirements of the customers.
They are resistant to corrosion, abrasion, and effects of the temperature.
Available Sizes
Every different project, product or client has different specifications and requirements that are suitable for them. We have been the leading Spring washer supplier and Spring washer exporter for many years now. We have been delivering exactly what the customer asked for and what was required for their project. We provide our spring washers in various sizes, shapes, finishes, grades, and materials.
Finish / Colours
Our spring washers come in various finishes and coatings to prevent them from corrosion and the temperature. Our Hot dip galvanized spring washers provide maximum resistance to corrosion and are more suitable for outdoor conditions.
Mechanical Galvanized : In mechanical galvanizing, we apply a thick coat of zinc is applied without electricity (as in electroplating) and perform the process at room temperature. Our production process is known for its uniform thickness and consistency between batches.
Zinc Plated : We do zinc plating to produce corrosion-resistant conical washers. The zinc coating acts as a kind of sacrifice, which gets corroded before the corrosion reaches the actual material.
Natural Black : We provide the black finish by coating the conical washer with black oxide. We do this to improve resistance to corrosion and to minimize light reflection. The major advantage of this coating is the minimal build up when compared to other coatings.
Hot Dip Galvanized (HDG) : Hot Dip galvanizing is one of the oldest and most prevalently used methods of coating that we use. Here, we clean the washer and dip it in a flux tank containing zinc ammonium chloride, which helps in coating the zinc onto the washer.
Grades of raw materials used
Choosing high-quality raw materials defines the secret of our wide customer base. We never compromise on quality and always choose the high-grade materials.
Each of them is custom made as per their application and requirement. We only use the highest quality of raw materials and components to manufacture our spring washers.
Standards
Our spring washers are in compliance with the DIN 127A, DIN 127B, DIN 128, DIN 7980, DIN 6796, BS 1802, IS 3063, IS 6735 standards which ensure their longevity and functionality.
Grades
C-62, Spring Steel, EN-42
Finish / Colors
Self Finish
Electro Zinc Plated
Yellow Finish
Auto Black Finish
Hot Dip Galvanized (HDG)
Rilsan Blue, Etc.
Standards
DIN 127A / DIN 127B / DIN 128 / DIN 7980 / DIN 6796 / BS 1802 / IS 3063 / IS 6735