Plain Washers Manufacturer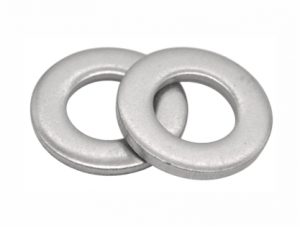 GHS FASTENERS is one of the trusted names amongst Plain Washers' manufacturers in the country. Our elite reputation in the market is a result of our utmost quality. Our dedicated staff's continuous effort in innovating the plain washer's design, quality and maintenance are what sets us apart. We are proud to be one of the leading plain washers suppliers in India. Our business strategies have led us to a renowned position in the International market as well.
Best exporter of plain washer
A product like plain washer requires accuracy and precision, and our expert team guarantees that. What makes us one of the best plain washer exporters is the mutual understanding with our clients. We solely believe in working according to their convenience and requirements. Our products are an end result of our client's wish list. The quality we provide is superior and trusted. The industry and domestic requirements of plain washers may differ largely based on their applications. We have you covered here as diversified plain washers are manufactured by us to suit your needs.
Our core team strives continuously to add new feathers to its name. As a result, we are by far the best plain washer supplier in the country.
Applications of Plain washers
When talking about washers, plain washers are a wide selection. They are also commonly known as flat washers. Just like the name is its structure and significance. This hardware caters the need of reducing friction on the surfaces. When screws and nuts are fastened over soft objects, they tend to get loose or damage the surface. A plain washer comes into the picture to avoid such wear and tear of commodities. These provide a smooth flat surface placed underside of nuts and bolts preventing the chances of pull through.
Their large diameters also come in handy when the fixing nut is much bigger.
The Significance of Plain washers
As one of the leading plain washers exporter, we can tell you that a plain washer is much more than a simple metallic disc. They are widely incorporated because of their capability to evenly distribute the load on the screw over its surface. This characteristic makes it an essential part when assembling the machinery. Often regarded as a connecting component, it facilitates the fixing of nuts and bolts. Plain washers play a crucial role on a large scale as well. Hence, it becomes mandatory to ensure that nuts and bolts are fixed tightly against each other to avoid any damage.
You may perceive plain washers as a small thin disc that favors nuts and bolts connection. But we as plain washers manufacturers understand the true essence and revise our processes from time to time. In this modern era, staying updated has is the need of the hour. Machines are changing and so is their technicality. Therefore, we work creatively to expand our horizons and deliver you the new designs.
Available Sizes
We are highly familiar with the traditional and International market needs. The multipurpose plain washers are available in various sizes, each being manufactured with a purpose to meet your convenience. Ranging from M3 to M80, we offer you appropriate and favorable sizes in the mentioned range. As clients, we understand the unique demands and are always ready for any sort of customization as per your requirements.
Finish / Colours
Our finishing touch to the plain washers makes us best in this business. As one of its applications is providing the smooth surface, we never compromise with a flawless finish. Customer demands are varied, and we guarantee satisfaction to the customers.
Zinc Plated : We do zinc plating to produce corrosion-resistant conical washers. The zinc coating acts as a kind of sacrifice, which gets corroded before the corrosion reaches the actual material.
Mechanical Galvanized : In mechanical galvanizing, we apply a thick coat of zinc is applied without electricity (as in electroplating) and perform the process at room temperature. Our production process is known for its uniform thickness and consistency between batches.
Natural Black : We provide the black finish by coating the conical washer with black oxide. We do this to improve resistance to corrosion and to minimize light reflection. The major advantage of this coating is the minimal build up when compared to other coatings.
Hot Dip Galvanized (HDG) : Hot Dip galvanizing is one of the oldest and most prevalently used methods of coating that we use. Here, we clean the washer and dip it in a flux tank containing zinc ammonium chloride, which helps in coating the zinc onto the washer.
Grades of raw materials used
Choosing high-quality raw materials defines the secret of our wide customer base. We never compromise on quality and always choose the high-grade materials.
Apart from these, we can also use other raw materials for production, which can be chosen according to the customer's need and requirement.
The market is ever changing and so are our strategies and goals. We believe there is always a scope for improvement and thereby get the products tested frequently. Our company's name is at stake. Therefore, we live by the idea that the first impression is the last impression.
Finish / Colors
Self Finish
Electro Zinc Plated
Yellow Finish
Auto Black Finish
Hot Dip Galvanized (HDG)
Rilsan Blue, Etc.
Standards
DIN 125 / DIN 126 / ISO 7089 / ISO 7090 / ISO 7091 / ISO 9021 / BS 4320 (A TO H) / IS 2016
DIN / IS  CHARTS – TECHNICAL SPECIFICATIONS