HSFG Washers Manufacturer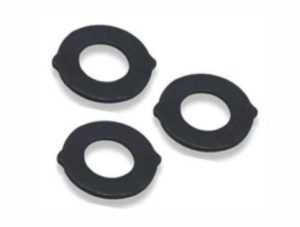 We have been the leading HSFG washer manufacturer India over the last few years. We are committed to offering a wide range of washers to the various clients in major industries across the country. We have various kinds of washers such as Plain Washers, Spring Washers, HSFG Washers, Rectangular Washers and various other types in our repertoire. Our HSFG washers have diverse applications in various industries. They are manufactured as per the specifications of our customers and their projects. We ensure that we provide only the best quality washers to our customers, and that has also been the reason for us to become the leading HSFG washer supplier. Making the best products with unique features for our customers has always been our goal.
What it is used for
Our HSFG washers are used in various industries for various purposes. HSFG stands for High strength friction grip, and they are equipped to deliver a high strength performance. Being the leading HSFG washer exporter in the country, we have been the major HSFG washer supplier for various projects across the globe. Our HSFG washers are perfect to bear a heavy load of weight and to keep different machines to run smoothly. Our HSFG washers are specially designed to have unique functionalities, and they ensure a tight joint. They distribute and hold the weight uniformly in the clamp and also help in preventing corrosion.
Our HSFG washers are used in industries such as:
Automobiles and Machinery
Chemical Industry
Power Plants
Manufacturing Process
Over the last couple of years, we have become a reliable HSFG washer manufacturer and HSFG washer supplier, thanks to our precision engineered products. We ensure that all our products are manufactured keeping in mind the requirement of our clients. State of the art hi-tech equipment and machines along with our team have made it possible to produce high-quality products. Our team is filled with vastly experienced people from various industries and walks of life. Our team's expertise in fabrication, manufacturing, and coating has helped us to deliver the products which satisfy the customers. We only use the highest quality of raw materials as per the specifications of our customers. Having been able to consistently produce and satisfy the customers over a long period of time has earned us the name of the leading HSFG washer manufacturer India.
Attributes
We are known in the industry as the leading HSFG washer supplier in the industry for our highly durable and rugged washers.
Our HSFG washers have a crack-proof sturdiness and durability which can withstand high amounts of load on them.
Our HSFG washers are famous for their resistance to damage. We ensure that the washers are resistant to corrosion, abrasion, and temperature.
Our HSFG washers are precision engineered, dimensionally accurate and have uniform threading as per the specifications of our customers.
Features
Our HSFG washers have a capacity and high strength to withstand large amounts of load.
Their ease of use has made them usable in various different applications in diverse industries.
Our HSFG washers are easy to install, remove and reinstall if necessary and give the scope of improvement.
The compact design and fine finish in our washers make them aesthetically appealing and easy to use with.
Finishing and colors available
Zinc Plated : We do zinc plating to produce corrosion-resistant conical washers. The zinc coating acts as a kind of sacrifice, which gets corroded before the corrosion reaches the actual material.
Mechanical Galvanised : In mechanical galvanizing, we apply a thick coat of zinc is applied without electricity (as in electroplating) and perform the process at room temperature. Our production process is known for its uniform thickness and consistency between batches.
Natural Black : We provide the black finish by coating the conical washer with black oxide. We do this to improve resistance to corrosion and to minimize light reflection. The major advantage of this coating is the minimal build up when compared to other coatings.
Hot Dip Galvanised (HDG) : Hot Dip galvanizing is one of the oldest and most prevalently used methods of coating that we use. Here, we clean the washer and dip it in a flux tank containing zinc ammonium chloride, which helps in coating the zinc onto the washer.
Grades of raw materials used
We obtain the highest quality of raw materials from leading vendors in the market. The raw materials we use for producing conical washers are:
Apart from these, we can also use other raw materials for production, which can be chosen according to the customer's need and requirement.
Finish / Colors
Self Finish
Electro Zinc Plated
Yellow Finish
Auto Black Finish
Hot Dip Galvanized (HDG)
Rilsan Blue, Etc.