Hex Bolts & Screws Manufacturer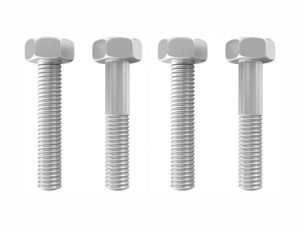 We at GHS Fasteners are one the leading Hex bolt supplier and Hex bolt manufacturer India. Hex bolts are also called as Hexagonal cap headed screws, Hex head bolts or machine bolts. Our Hex bolts can be used within a tapped hole or a nut. Fully threaded hex bolts are also called as tap bolts. Hex heads are typically used with larger heads and screws. It is used when a single part cannot be manufactured. It is also used when it is required to disassemble and repair. We also specialize in manufacturing Heavy Hex bolts.
What are they used for
Our Hex bolts are currently being used in major construction and repair projects around the world. Being the industry-leading Hex bolt manufacturer India and Hex bolt exporter from the country, our products are much sought after. Our hex bolts are being used for many different applications across construction, repair, automotive industries. They can be used for fastening wood and steel. They are used in major construction projects such as buildings, bridges, marine docks. Hex headed bolts with forged heads are also used as headed anchor bolts.
Manufacturing Process
As the leading Hex bolt manufacturer India and Hex bolt exporter, we take immense effort in manufacturing the best bolts in the business. All our hex bolts are manufactured as per the international standards. We also cater to a wide range of customer specifications and preferences. We have a state of the art manufacturing facility with all the advanced machinery. We use only advanced machinery including welding machine and the drilling machine to produce our Hex bolts. Every single Hex bolt coming out of our facility is manufactured in strict conformance with the international norms of quality.
We have been able to become the leading Hex bolt manufacturer India because we listen to our customers. We value the needs and preferences of our customers. And we custom make Hex bolts according to their specification. We make our Hex bolts at a diameter of M5 to M64 or 3/16″ to 2.5″. We use various threading techniques like MM, BSW, BSF UNC and UNF. Our Hex bolts are made of grade 4.6, 5.6, 5.8, 6.8, 8.8, & 10.9. We use various finish and colors according to the specification and need of the customer. We provide a natural finish or self-finish. Our Zinc plated, yellow finished and black finished bolts are majorly used for general purposes and mostly indoors. Our Hot Dip Galvanized (HDG) Hex Bolts offer higher corrosion resistance and are much more suitable in the outdoors. Our stainless-steel Hex bolts offer great corrosion resistance making it suitable for outdoors, especially for marine applications. Our steel Hex bolts are made to withstand enormous amounts of weight per inch. They are coated to be protected against corrosion. They are available in different strength grades such as DIN, ASTM, BS, ANSI. They are considered the most common strength grade systems for externally threaded carbon steel fasteners.
Features
GHS Fasteners, as the leading Hex bolt supplier and Hex bolt exporter, takes pride in producing the best quality of Hex bolts in the country. Our Hex bolts are world renowned for their Durability and Reliability. They are widely used all over the world in major construction projects due to their long life and excellent performance. We also produce some of the most cost worthy and cost-effective Hex bolts. Our Hex Bolts are manufactured and produced in our state of the art facility in Ludhiana. Due to our world-class infrastructure, we are able to take bulk demand of Bolts from Ludhiana and all over the world. Order from us in bulk today and get timely delivery.
Attributes
Our Hex bolts are precise in their dimension and extremely robust in their construction. We make sure that our Hex bolts are corrosion resistant. We are highly appreciated worldwide for excellent heat and abrasion resistance. Our stainless steel Hex bolts are suitable for extremely low and high-temperature areas. Our Hex bolts have a longer service life which makes them a very trustworthy choice.
Grades
4.6, 4.8, 5.6, 5.8, 8.8, 10.9, 12.9, B7, B7M
Finish / Colors
Self Finish
Electro Zinc Plated
Yellow Finish
Auto Black Finish
Hot Dip Galvanized (HDG)
Rilsan Blue, Etc.
Standards
IS 1363 / 1364 / 2585 / 3138 / 3640 / 10238
DIN 931 / 933 / 960 / 961 / 7990 / 610
BS 1083 / 1768
ANSI B18.2.1
ASTM A307
IS 3757 / 6639
DIN 6914 / 6915
ISO 7412
ASTM A325M / A490M
BS 1769