Spring Nuts Manufacturer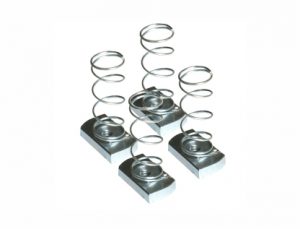 GHS Fasteners offers a wide range of nuts such as Nylock Nuts, Slotted Nuts, Weld Nuts, Collar Nuts, Anti-theft Nuts, Pal Nuts, Castle Nuts, Heavy Hex HSFG Nuts, etc… We are one of the largest spring nuts manufacturers in India and are based in Ludhiana. We offer products in a wide range of sizes according to the requirements of the customer.
We offer such spring bolts of excellent quality at such affordable prices. In fact, for the same quality products in the market, GHS Fasteners's are those with the lowest price. We source our raw materials from trusted sources and suppliers and make sure they are of the most exceptional quality. The raw materials we use are the superior quality spring steel. This is used so that no damage is caused to the finishing of the product. These spring nuts are thus suitable to be used to be in a wide variety of industrial applications.
We are the industry leaders in the production of spring nuts since our products are of consistent quality, meet the necessary standards and are monitored by a quality council during production and testing. We also export our top-quality products to other countries. Our spring nuts provide excellent resistance to pull-outs and slide slips due to the application of excessive pressure.
We do manufacturing and supplying of spring nuts. They are highly appreciated in the industry as multiple threaded fasteners used in thin materials. Dimensional accuracy and long-life of our products are what is understood by our clients. What is more is that we can customize products according to size and finish as required by the customers and provide them for the best prices in the market.
Grades
Mild Steel, SS 304, SS 316
Finish / Colors
Self Finish
Electro Zinc Plated
Yellow Finish
Auto Black Finish
Hot Dip Galvanized (HDG)
Rilsan Blue, Etc
Key Attributes
Long Spring
Designed for deep channel
Stainless Steel or Zinc Plated