Castle Nuts Manufacturer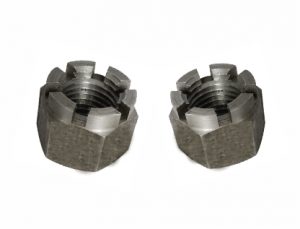 We are the largest castle nuts manufacturer in India and are based in Ludhiana. We also produce a wide range of other nuts including Nylock Nuts, Slotted Nuts, Weld Nuts, Collar Nuts, Anti-theft Nuts, and Pal Nuts.
A Castle Nut also known as Castellated Nut, is a nut with slots cut into one end. The name comes from the nut's resemblance to the crenellated parapet of a medieval castle.
The Castle Nuts that we manufacture are known for their incredible durability and consistent quality. Such castle nuts can be sued interchangeably with slotted nuts. We are the most well-known name in this industry for the production of castle nuts in India. We are the industry leaders in nuts production since our products are of consistent quality, meet the necessary standards and are monitored by a quality council during manufacturing and testing. We also customize orders as per our customer's requirements for bulk orders.
Finish / Colors
Self Finish
Electro Zinc Plated
Yellow Finish
Auto Black Finish
Hot Dip Galvanized (HDG)
Rilsan Blue, Etc.