Slotted Nuts Manufacturer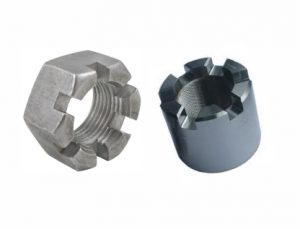 GHS Fasteners offers a wide range of nuts Nylock Nuts, Slotted Nuts, Weld Nuts, Collar Nuts, Anti-Theft Nuts, Pal Nuts, etc. We are one of the largest slotted nuts manufacturers in India and are based in Ludhiana. We offer products in a wide range of sizes according to the requirements of the customer.
GHS Fasteners is among the largest manufacturers of Slotted Nuts in India and is known for the high-quality, reliable products that we produce. We are the industry leaders in the production of nuts since our products are of consistent quality, meet the necessary standards and are monitored by a quality council during production and testing. We provided the highest quality products at the lowest rates in the market.
We produce these nuts using sophisticated equipment and make sure they conform to Quality standards. They are used mainly in the automotive industry for use in securing the front wheel bearings, hubs, and spindles on cars and trucks alike. We manufacture the slotted nuts from the highest quality stainless steel and mild steel which are sourced from leading suppliers. Our nuts are mainly known for their durability and can be tightened using slotted screwdrivers.
Finish / Colors
Self Finish
Electro Zinc Plated
Yellow Finish
Auto Black Finish
Hot Dip Galvanized (HDG)
Rilsan Blue, Etc.