T Bolts Manufacturer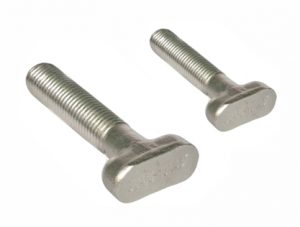 GHS Fasteners has been the leading T Bolt manufacturer India and T Bolt supplier. We take pride in our quality of producing and delivering. A T bolt is also known as a T Slot bolt. They are often made of steel. The strength of our T Bolts often varies from grade to class. We make sure that our T Bolts are sturdy and qualitative. We're happy to provide you with a series of T-bolt assortments that are versatile for different applications. We make sure that all our raw materials are of high quality.
What are they used for
Being the leading T bolt supplier and T bolt exporter in India, we recommend only the best and most useful products to our customers based on their needs. T Bolts are usually used to create designs in construction, mechanical, automobile, and railway. Our T Bolts, screws and studs are used mainly in the manufacturing industry. Every one of our T Bolt has its own individual mission and features. Our T bolts have an un-threaded shank which helps for more effective usage. The un-threaded shanks have long been a defining feature of our bolts.
Manufacturing Process
Having been the leading T bolt manufacturer India in the past few years, we understand what the industry demands. All of our T bolts that are widely used in the industry are designed and manufactured in our state-of-the-art factory in Ludhiana. Our T bolts are highly esteemed in the market for their quality, construction, and finish. Due to our advanced machinery, which is widely used in producing our T bolts, they offer genuine performance. We manufacture our products using the best quality raw materials alongside utilizing the advanced, cutting-edge technology present in our factories. Every single T bolt coming out of our facility is manufactured in strict conformance with the international norms of quality. We manufacture them in compliance with the latest ISO Standards and position ourselves as the industry leaders in Flange Bolt manufacturing. Our T bolts are manufactured using quality material and also complies to ANSI, DIN & BS standards. We have been able to become the leading T bolt manufacturer India because we listen to our customers. We value the needs and preferences of our customers. And we custom make T bolts according to their specification and preferences
Features
Being the industry leader and T bolt manufacturer India we make sure that our customers are served with only the best quality products. Impeccable performance is one of the major features of our T bolts thanks to the advanced machinery at our disposal. Our eye for detail has ensured that all our products are dimensionally accurate. Our high standards of quality have ensured that we achieve a flawless design and robust construction. Our T bolts have a long service life and can be availed at factory pricing.
Attributes
Our precise manufacturing process has ensured that all our T bolts have excellent threading. We take pride in the robust design of our T bolts which offer high durability and performance. Our experts have ensured that you get the best quality T bolts in the market by making them Anti-corrosive and resistant to heat and the weather. This keeps our T bolts leaps beyond the rest of the products in the market.
Finish / Colors
Self Finish
Electro Zinc Plated
Yellow Finish
Auto Black Finish
Hot Dip Galvanized (HDG)
Rilsan Blue, Etc.