Flange Bolts Manufacturer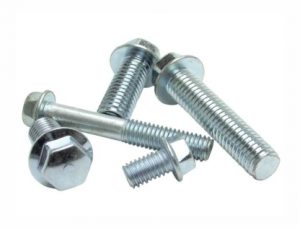 We as the leading Flange bolts manufacturer India and Flange bolt exporter and Flange bolt supplier are engaged in offering our clients with an exhaustive range of Flange Bolts that have gained appreciation from clients in the industry. Flange bolts have a circular rim under their head which is similar to a washer. Weight distribution is done by it. Frame bolts are another name for non-serrated flange bolts are also. They are serrated to prevent them from loosening up. They sport a hexagonal head to use it with a wrench.
What they are used for
Being the leading Flange bolt supplier and Flange bolt exporter in India, we recommend only the best and most useful products to our customers based on their needs. Flange bolts dismiss the need for washers as the area under the bolt head is wider. It creates a bigger area for equal distribution of pressure. They have a large area below the head to give a uniform design for securing pressure. The wide space also doubles up as a washer which eliminates the need for additional spare parts in the bolt. Hexagonal flange nuts also work in tandem with hexagonal flange bolts. The different grades of hex flange bolts, hex flange nuts, and hex flange screws have an extensive range of applications in the industry. The flange bolts guarantee total holding strength. The counterbore flange bolts are used in various automotive applications and aircraft devices. They can be installed with ease by using an impact wrench and a 12 point socket. These are used in automobiles and two-wheelers along with wrenched decorative heads, thereby enhancing the look. Our range of Flange bolts finds its applications in several industries like power, steel, cement, food and beverage, automobile and chemical.
Manufacturing Process
Having been the leading Flange bolt manufacturer India in the past few years, we understand what the industry demands. All of our Flange bolts that are widely used in the industry are designed and manufactured in our state of the art factory in Ludhiana. Our Flange bolts are highly honored in the market for their quality, construction, and finish. Due to our advanced machinery, which is widely used in producing our Flange bolts, they offer authentic performance. We manufacture our products using the best quality raw materials alongside utilizing the advanced, cutting-edge technology present in our factories. Every single flange bolt which gets made in our facility is manufactured in strict conformance with the international norms of quality. We manufacture them in compliance with the latest Quality Standards and position ourselves as the industry leaders in flange bolt manufacturing. Our flange bolts are made using quality material and also complies with ANSI, DIN & BS standards.
We have been able to become the leading Flange bolt manufacturer India because we listen to our customers. We value the needs and preferences of our customers. And we custom make Flange bolts according to their specification and preferences.
Features
Being the industry leader and Flange bolt manufacturer India we make sure that our customers are served with only the best quality products. Impeccable performance is one of the major features of our flange bolts thanks to the advanced machinery at our disposal. Our eye for detail has ensured that all our products are dimensionally accurate. Our high standards of quality have made sure that we achieve a flawless design and robust construction. Our flange bolts have a long service life and can be availed at factory pricing.
Attributes
Our precise manufacturing process has ensured that all our flange bolts have excellent threading. We take pride in the robust design of our flange bolts which offer high durability and performance. Our experts have ensured that you get the best quality flange bolts in the market by making them anti-corrosive and resistant to heat and the weather. This makes or flange bolts leap beyond the rest of the products in the market.
Finish / Colors
Self Finish
Electro Zinc Plated
Yellow Finish
Auto Black Finish
Hot Dip Galvanized (HDG)
Rilsan Blue, Etc.