Hex Nuts Manufacturer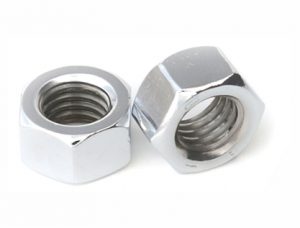 GHS Fasteners is one of the leading hex nut manufacturers in Ludhiana. Hex nuts have become increasingly popular in today's world. In simple terms, a hex nut is a piece of hardware which is six-sided and serves the purpose of fastening with internal screw threads. There are various types of hex nuts that are available in today's market. Each type is used for a different reason. We being one of the biggest manufacturers specializing in different types of industrial tools place a lot of emphasis as well as focus on making sure that we are able to provide our customers or clients with the best possible tools that there is. The hex nuts provided by us are no exception. We produce a variety of hex nuts.
Each type of hex nut is given a lot of importance. We as manufacturers believe that we owe it to our clients and customers to provide them with the best and only the best. We give utmost importance to features like the dimensions of the hex nut along with the durability of that particular type.
Nuts Exactly As Per Your Needs
A lot of importance is given to the dimension as the shape of an industrial tool plays a major role in its utility. If the right shape and the right dimensions are not present in any particular hex nut, it cannot be used to its maximum by our clients. Since we provide such a wide range in the category of hex nuts itself, our customers heavily rely on us. We receive a lot of appreciation for our extensive collection and that truly, is what we ultimately aim for.
Apart from the different dimensions that we provide our customers within each category of products, we also provide the option of customization of these industrial tools. This means that our customers have the flexibility to select the dimensions of their industrial tool in accordance with the needs of the customers. This not only acts as a massive advantage but also helps us in connecting to different clients with different needs.
Customer Satisfaction Is Our Top Priority
Apart from delivering high customer value, our aim is to cater to different industries in order to establish ourselves in every field that there is. The diverse industries that we are a part of giving us an insight into how each industry works. It also helps us in understanding how to make our tools better in order for them to be a success.
We Understand What You Need
Since our company is associated with multiple industries, we understand how the requirements vary, and we wish to give each client exactly what it looks for. We aim to match the needs of the company with our expert supply.
Why Choose Our Hex Nuts
These hex nuts are used by different companies for different purposes. The material used for this is of premium quality. The hex nuts are fabricated with high-grade materials and have thus proven to be the best that is available in the market. One major indication of success that we have received is the very fact that we are able to sell these hex nuts at a market leader price. This not only shows customer belief in our products but also indicates that our customers are loyal to our manufacturers and they do not mind paying a relatively higher price for the tools that are obtained. Whereas companies are always looking for ways to cut costs, they are not willing to compromise on the integrity of the product. This is exactly where our tools come in. This is exactly where our hex nuts come in. It being one of the most important tools needed by almost all the companies has led to a high generation of revenue throughout its life cycle. We believe in the scope as well as the growth of this tool and this is the reason why we are constantly diversifying and trying to come up with new types within this particular category in order to suit the requirements of all our clients. This has helped us reach out to a large number of companies who were in need of exactly the services that we provide. It has helped us to sustain ourselves in the market as well as to grow in ways which we did not know were possible. We believe that with our rich experience as well as a thorough understanding of the market, we have successfully been able to meet the requirements of all the parties that are involved with us.
Finish / Colors
Self Finish
Electro Zinc Plated
Yellow Finish
Auto Black Finish
Hot Dip Galvanized (HDG)
Rilsan Blue, Etc