Slotted Screw Manufacturer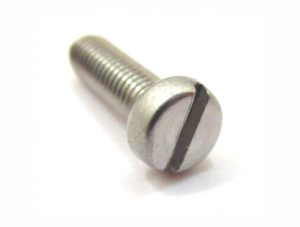 We here at GHS Fasteners have been in the business for many years now. We have been the leading Slotted screw manufacturers India, Slotted screw suppliers and Slotted screw exporters across the world. Every year we export 10,000s of slotted screws to various clients and projects. A single slot is available in the fastener head of the screw. It is driven by a common blade or a flat bead screwdriver. Slotted screws showed us a new path as they were the first types of screws to be developed. They are still used worldwide for their effectiveness in usage and cost.
What are they used for
A slotted screw has become a common component in various projects, big and small, all over the world. They achieve a lot even though they take up the least amount of space, time and cost. They are found in products, installations, carpentry and other purposes where little torque is needed. Our slotted wood screws have deep coarse threads. They are specifically designed to use in projects which involve wood appliances. Our round headed slotted screws have a round top with a flat load bearing surface which holds due to it being fastened firmly together. The slotted screw drive is the best choice for future maintenance. It can be easily painted or coated over and gives an option to fasten and unfasten it. Our brass slotted screws have resistance for corrosion and are aesthetically pleasing. They are used a lot in antiques, dollhouses, miniature boats, jewelry boxes and other projects with a rustic antique appeal to them. All our slotted screws have rolled threads with a single edge. Single edges are preferred for most applications. We also provide twin threaded slotted screws which are ideal for specific modern applications. Our barrel finish in our slotted screws gives a brighter finish and meets the modern expectations.
Manufacturing Process
Having been the leading Slotted screws manufacturer and slotted screw supplier in the country, we take immense care and pride in our manufacturing process. We make sure that every screw is designed and manufactured to perfection. We use only the best quality raw materials to avoid cracking or breaking of the screws later on. Our coating process transforms the screws from good to industry class. Our slotted screws are widely used from big to small projects all over the world due to its fineness. We were able to achieve this level perfection due to the advanced machinery in our very own state of the art facility in Ludhiana. We use industry appreciated thread rolling methods which makes them very usable and functional. Our factory is well equipped to make custom slotted screws as per the requirement of the customer. We understand the needs of the customer and their project and deliver the best quality products.
Customer satisfaction has been our utmost priority. This has lead GHS Fasteners to be the industry-leading Slotted screw manufacturer and slotted screw supplier. We offer these screws in various specifications as per the requirement of the customer.
Features
We take pride in being the leading Slotted screws manufacturer and Slotted screw supplier. We make sure that all our customers get the best quality products with the best features. Our Slotted screws deliver impressive performance thanks to the precision to details. We make sure that all our Slotted screws have precise dimensions. Our Slotted screws have a longer functional life thanks to the advanced machinery and expertise used. We ensure that our Slotted Screws have a high standard of quality and are dimensionally accurate. Our Slotted screws have an impeccable yet robust design. You can get our Slotted screws at factory pricing.
Attributes
Our slotted screws are ideal for attaching metal wood, fiberglass, and plastic. It is incredibly durable in steel construction. The sharp point and threads ensure a tight and secure hold. Our slotted screws are versatile and have a long functional life. They are made from hardened steel, and the threads create their mating thread in pre-drilled holes. The slot makes it easy to handle and start the short crews.
Finish / Colors
Self Finish
Electro Zinc Plated
Yellow Finish
Auto Black Finish
Hot Dip Galvanized (HDG)
Rilsan Blue, Etc.