Button Head Bolts Manufacturer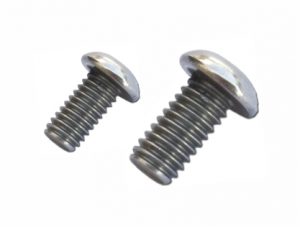 GHS Fasteners has been the leading Button head bolts manufacturer India, Button head bolt supplier, and Button head bolt exporter based in Ludhiana. Our Button Head Bolts are functional bolts used in many applications. We are committed to providing button head bolts which are dimensionally accurate and capable of bearing heavy loads. We offer these bolts in various dimensions and lengths to meet the demand of our customers. GHS Fasteners manufactures high-quality button head bolts as per DIN 7380. All our button head bolts are created using premium quality materials.
What are they used for:
Having been the leading Button head bolt exporter and Button head bolt supplier in the country, we make sure that our clients get the best quality products matching the industry standards. Our Button head bolts are being used all over the world in different significant projects. Our Button head bolts are currently being used in various industries such as agricultural, mechanical, constructional and automobile. We also offer SS Button Head bolt. The screw is varied to meet the multiple needs of various industries like automobiles and construction. It is offered in varied sizes, grades and specifications according to the client's expectations. Our button head bolts offer a large bearing surface and possess high tensile strength. The socket head ensures driving when sufficient space is not available for the wrenches to do the work. The point at the threaded end of the button head bolt will fit into a drilled hole. Button head bolts have an allowance in tight spaces where there is insufficient space for sockets or wrenches. The low head when installed provides a modern finish for a streamlined design. Button head bolts are the best choice for applications with limited space due to the internal hexagon slot that allows them to be used in locations where externally wrenched fasteners cannot be used. They are designed and recommended for moderate fastening applications, machine guards, and hinges covers.
Manufacturing Process
Being the industry-leading Button head bolt manufacturer and Button head bolt supplier, we take pride in our manufacturing process. Our Button head bolts are widely used across various industries all over the world. All our Button head bolts are manufactured right here at our state-of-the-art facility in Ludhiana. We ensure that every single button head bolt is designed and built with an unsparing eye for detail. Every single button head bolt coming out of our facility will have the same best in class quality as the rest of the bolts. We can achieve this thanks to the advanced machinery that we use to produce all these bolts. We ensure that we listen to the demands of our customers. We custom make our button head bolts as per the needs of our customers and their projects.
Features
Being the leading button head bolt manufacturer also brings in the responsibility of delivering the best quality products with great features. Our button head bolts provide impressive performance thanks to our attention to details. We make sure that all our button head bolts have precise dimensions. Our button head bolts have a longer functional life thanks to the advanced machinery and expertise used. We ensure that our products have a high standard of quality and are dimensionally accurate. Our button head bolts have an impeccable yet robust design. You can get our button head bolts at factory pricing.
Attributes
Our button head bolts are hot forged and have a uniform grain flow. This allows them to retain their aesthetic look and appeal. Our button head bolts are famous for their high strength. Our button head bolts have high tensile strength and longer functional life. We were able to achieve this only because of our precision engineering and eye for detail. We use the best quality grades on our bolts to achieve their longevity.
Finish / Colors
Self Finish
Electro Zinc Plated
Yellow Finish
Auto Black Finish
Hot Dip Galvanized (HDG)
Rilsan Blue, Etc.